A PHOTOGRAPH OF THE PROPHET JOSEPH SMITH JR.
[an error occurred while processing this directive] hits on this Web page so far!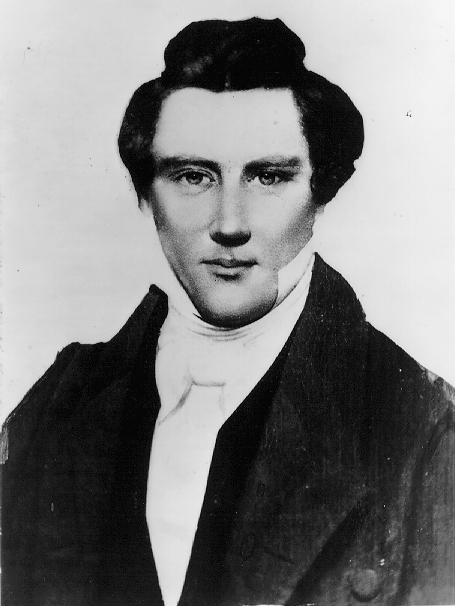 The photograph above is believed to be a copy of an original daguerreotype taken of Joseph Smith Jr. in Nauvoo just before his death in 1844. It has caused a lot of excitement among researchers who study the image of the Prophet Joseph Smith.
---
Evidence suggests, the Prophet's son Joseph Smith III, submitted a photographic copy of his father's daguerreotype to the Library of Congress in 1879. A daguerreotype is a small unique image that can only be duplicated by being re-photographed. Clear reproduction presented a problem because the majority of daguerreotypes in 1844 were only the size of a large postage stamp. The Library of Congress copy is an 8x10 inch print, which would be an obvious enlargement of a small original daguerreotype.

This 1879 duplication was done with film and equipment that by today's standards would seem quite primitive. It has been retouched around the hair, coat, on the cravat-or necktie-and the vest. Joseph's pompadour hairstyle, considered fashionable at the time , has been poorly frisked or masked along the outline. This retouching has caused the loss of softer, finer, transitional hair between the parted sections. Joseph's face seems free of any artistic retouching, but there is an overall "grainy" quality that causes the image to be less than one might expect from a photograph. This "graininess" is probably due to the gross enlargement from the original daguerreotype, however there is a startling photographic quality to the eyes.

THE INFORMATION ON THIS WEBSITE HAS BEEN SUPERCEDED BY NEW DISCOVERIES AVAILABLE AT A BRAND NEW WEBSITE www.photographfound.com
Click here for the new website.

Researched and Written by Reed Simonsen, Chad Fugate and Jim Fugate.
This site and all information contained copyright 1998 The Randall Co. All rights reserved.