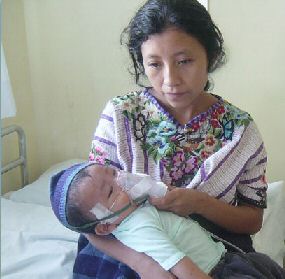 They need our help.
Every year, the Canadian Guitar Festival has quietly donated a portion of all guitar draw ticket sales to Hospitalito Atitlan to help sponsor their efforts to provide quality healthcare and hope to Mayan Families. Hospitalito Atitlán is a small private nonprofit hospital serving 75,000 Maya living on the southern shore of beautiful Lake Atitlán in the Guatemalan highlands.
The hospital provides a full-range of preventive and clinical health services with an emphasis on women and children and has the only 24/7 emergency and surgical obstetrical care within a two-hour radius.
We are grateful for the support of the CGF fans in helping us make this annual donation possible.

Every year Washburn Guitars donates Washburn RO10 Rovers guitars for raffle with all proceeds going to Hospitalito Atitlan. We thank them for their generous support of this worthy cause.
We raised 1108$ for Hospalito Atitlan during the 2016 CGF. :-) Holmes struck gold with those Niagra peaches! Special thanks to our sponsors at Washburn Guitars for their annual donation of 3 Rover guitars for our daily raffles! Also big ups to Andrea Peloso who could not attend but bought a Sat. day pass to add to the mix for the hospalito! Our thanks to all who donated! - Del